Are you a wizard when it comes to designing and building your own websites?
Or do your programming skills fall short of the mark?
The majority will no doubt fall into the latter category with either none or only a little technical knowledge.
If you're one of those individuals, this post is for you because creating beautiful pages for your WordPress site doesn't have to be as difficult as it seems.
Top Page Builder Plugins for WordPress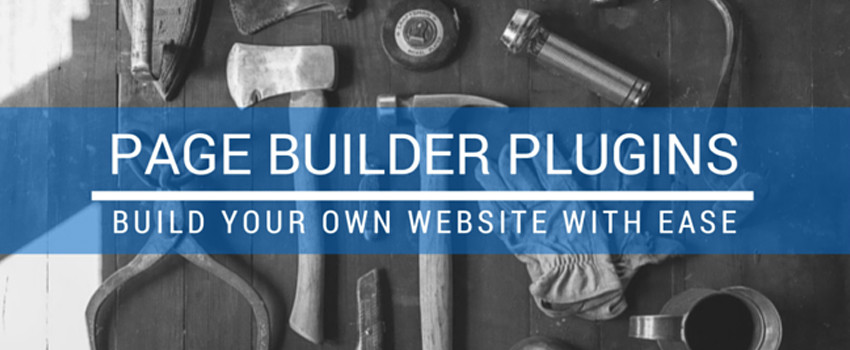 Before we take a look at some of the many drag and drop page builder plugins available, it's worth explaining what a page builder is.
Drag and drop page builders are created with the non-technical WordPress user in mind. True to their nickname, they allow you to drag different elements or 'modules' such as content columns, images, and text blocks over to a blank page, which you can then drop into place.
These modules can be rearranged, swapped around, and customized to suit your needs, all without having to write a single piece of code. It's the perfect way to get the look of your website exactly the way you want, without having to study programming for years. And to top it off, the plugins out there are fairly inexpensive when you consider the cost of studying and learning code.
So, how about we explore in greater detail? Read on to discover 10 of the best WordPress drag and drop page builder plugins that enable you to effortlessly build your website to look and perform in the way you want. They've all been chosen for their simplicity, ease of use, and their powerful features, all of which make creating your pages an effortless task.
1. WP Beaver Builder
Beaver Builder makes creating and editing WordPress websites easy, even if you have very little technical knowledge. It uses a drag and drop page builder, allowing you to drag different pages elements onto your design and gives you more control over how your website looks.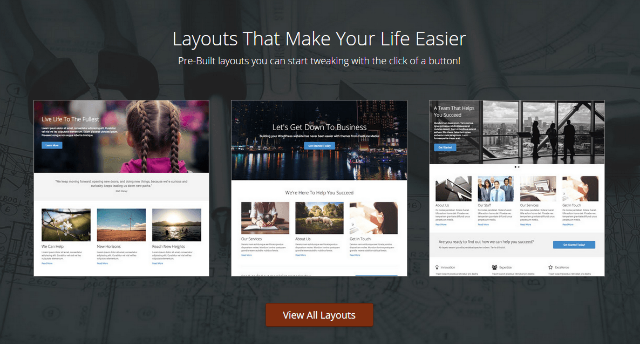 The page builder comes with a free WordPress theme called Beaver Theme, which we reviewed a while back. This can be used alongside the page builder, or on its own. Used together it creates a seamless building experience for those people with little technical knowledge.
Features
Beaver Builder has a large catalogue of page templates, designed to get you started in the easiest way possible. All of the layouts and modules are mobile responsive too, making them adaptable to mobile devices such as smartphones and tablets.
Further features include:
Search engine optimization to make you more visible to search engines
20+ modules to utilize within the page builder, for a more customized look
Save the templates you create to use again an unlimited amount of times
Create your own custom modules through the builders API
WooCommerce support for eCommerce integration
Enable custom post types within the admin settings for more versatility
Import and export your layouts and share them with other WordPress users
Beaver Builder is also translation ready, meaning it integrates perfectly with popular translation plugins such as Weglot or TranslatePress. This allows you to reach an international community and to display your content in their language.
👉 You can learn more in our full Beaver Builder review.
Price: $99+ Per Year
Try Beaver Builder
2. Divi Builder by Elegant Themes
If you like to be really intricate when it comes to uniquely personalizing your posts and pages, then Elegant Themes' Divi Builder packs plenty of options for you to explore. Boldly labeled "The Ultimate Page Builder Plugin", it is a drag and drop builder that requires no coding and lets you get quite creative with an array of features where designing anything is simple is easy.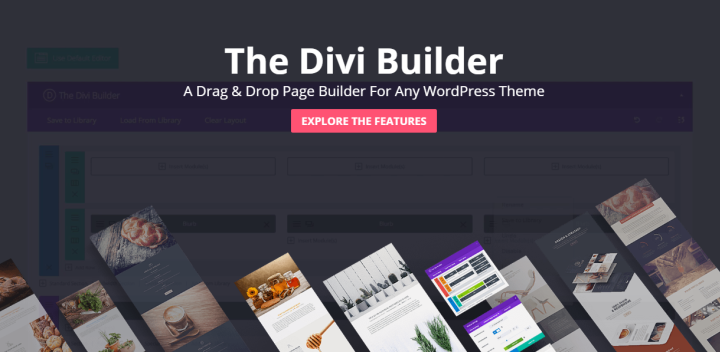 It offers compatibility with all themes and combined with powerful options that are part and parcel can completely transform how your website looks and feels.
Features
The Divi Builder ships with 40+ content modules that can be arranged according to your preferred design to potentially unlimited visual variations. These modules include blog, text, video, audio player, as well as many full-width modules such as header, menu, image, map slider and post title. All of these give you great control over how your content displays and much more.
Further features include:
Ability to use custom Code Module for integrating third-party plugins
Great UI, clean and easy to manage
Complete control over layout spacing
Divi Builder Library for housing any number of elements and layouts
Global Items for use in multiple pages
You can view a number of demos that demonstrate the power of Divi Builder here.
Price: $89 Per Year
👉 You can learn more about Divi Builder in our Elegant Themes review.
💰 Don't forget to use our Elegant Themes coupon to get an exclusive 20% OFF.
Try Divi Builder
3. Thrive Architect
Thrive Architect is one of the best WordPress drag and drop page builder plugins in the market. But that doesn't mean it comes with a lackluster punch. In fact, this plugin has an intuitive interface that lets you see all your changes in real-time as you edit.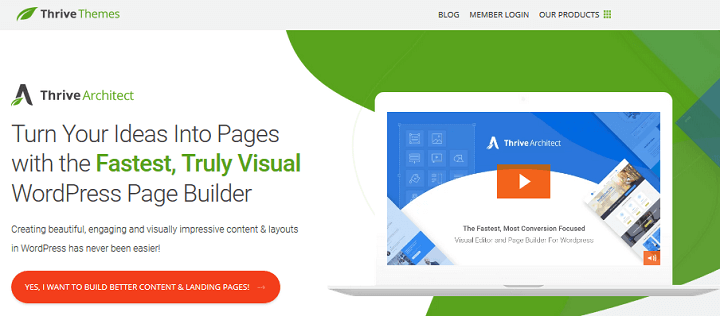 Just like the other page builder plugins on our list, Thrive Architect has a modern feel to it and lets you easily drag elements from the sidebar directly onto your website as you build. And thanks to the inline editing feature, Thrive Architect lets you streamline site editing.
Features
One of the best things about Thrive Architect is that it comes with built-in landing page templates. This means you don't have to build a highly-converting landing page from scratch. Just pick a template and customize it to meet your needs.
Further features include:
Dozens of conversion elements such as testimonials, countdown timers, and lead generation forms
Complete font customization, including access to over 700 custom fonts
Attention grabbing hover effects to boost engagement
Mobile-friendly features – instant mobile preview, element visibility toggling, and responsive editing
Integration with popular email marketing service providers and other third-party apps such as HubSpot
With this visual WordPress page builder plugin, you can turn your website into one that followers and customers love.
👉 You can learn more in our full Thrive Architect review.
Price: $67 Per Year
Try Thrive Architect
4. MotoPress Content Editor
MotoPress is a content editor plugin with drag and drop functionality for WordPress websites. Its feature-rich page composer can help you transform any WordPress site into a visual editor for creating elegant, beautifully designed pages.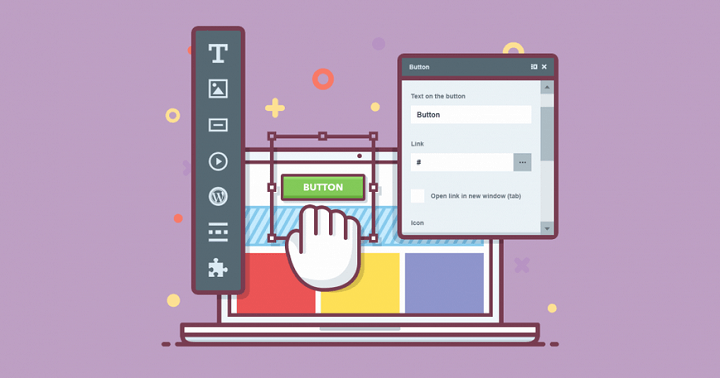 This plugin is compatible with all major premium WordPress themes, meaning you won't have any nagging bugs or glitches. The design is responsive which makes it ideal if you're building a website more suited to mobile devices and front end editing allows you to see your design taking shape as it happens.
Features
You can create complex, detailed layouts with MotoPress Content Editor through its content elements library. Without the need for any programming experience, you can add images, text blocks, buttons and more, to anywhere on your page.
Further features include:
A simple drag and drop system so you don't need to know any coding
Responsive, mobile ready layouts making your pages adapt across multiple devices
Full support to help you with any difficulties in getting set up
WPML compatibility
Support for custom post types
Extend your own shortcodes
Regular updates to keep your plugin secure
MotoPress also includes files for easy translation. This means you don't have to be able to speak English to get the full benefits of using the page-builder.
Price: $29 Per Year
Try MotoPress
5. Themify Builder
If you're familiar with Themify WordPress themes, then chances are you'll know about their page builder too. The Themify Builder comes bundled with all of Themify's themes, however you can use the plugin on its own also.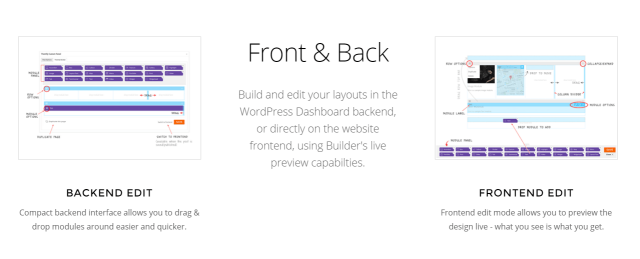 The page builder lets you bring any of your pages to life, via its intuitive drag and drop builder. Simply drop content blocks onto your page, arrange them as you see fit and view the results in the builders live preview function.
Features
The Themify Builder allows you to edit your pages from the back or front end of your website. The backend edit lets you drag the different modules over to your page from within your sites admin area. The frontend edit lets you view changes in real-time as they happen on the frontend of your site.
Further features include:
Pre-built layouts designed to get you up and running faster
Import and export your layouts so you can use them on other sites
Custom styling allows you to have control over every element of a pages look and feel, including parallax scrolling, google web fonts, and color pickers
The underlying code makes your site responsive, SEO friendly, and includes multi-site support
Page building modules include popular features such as accordions, quotes, portfolios, sliders, and videos to name a few
Extend the functionality of your pages by using add-ons such as WooCommerce, Fixtext, Counter, and A/B Images
Alongside these features, the Themify Builder is also compatible with all WordPress plugins that use the same standards. This means you can use it with any theme or plugin and if it doesn't work (which is rare), they'll give you your full money back.
Price: $69 Per Year
💰 Don't forget to use our Themify coupon to get an exclusive 20% OFF.
Try Themify Builder
6. Elementor
Elementor is a frontend page builder that will win you over as your favorite page builder for three reasons: how easy it is to use, how fast it works, and the fact that you can reach a higher level of design with it when compared to other page builders. This higher level of design is reached because you get a wide variety of widgets, effects, and templates to choose from, right on the free page builder.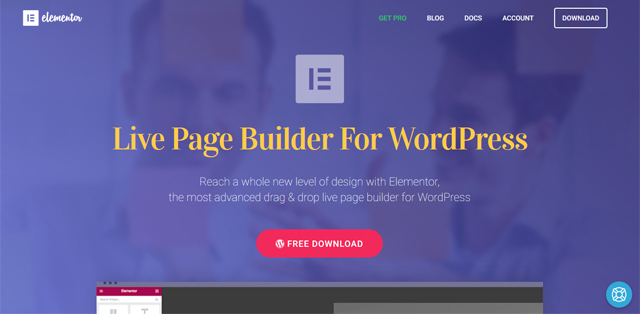 Elementor works on the frontend of your site, so everything you design, whether it's a carousel, image, or video widget, is done in real-time, so you don't need to switch between the front and back end. With Elementor, you also get flexible control over the entire layout of the page, so you can design the entire page without a single line of code.
Features
A unique feature that Elementor comes with is the popup form option. Creating popup forms for your WordPress site is a great way to boost leads and build a bigger email list. This will help you whether you run a blog, online business, or eCommerce shop.
Further features include:
Mobile editing tools that let you customize every page for tablets and mobile devices in a visual way
20+ professionally design templates that let you customize beautiful landing pages and site pages fast
Revision history, so your entire design process is backed up automatically and you can switch back and forth between earlier versions
WooCommerce support and widgets
WPML support and translations for 13+ languages
28 useful drag and drop widgets like button, video, carousel, and testimonial
Elementor Pro is an extension of the free plugin, and includes additions like forms, slides, posts, and global widgets
👉 You can learn more in our full Elementor review.
Price: Free version & $49 per year for single site license
Try Elementor Pro
7. Visual Composer
Visual Composer by WPBakery is one of the best selling page builder plugins for WordPress. With over 100,000+ people using the plugin, they claim that level of people "can't be wrong". The name also suits this plugin as Visual Composer is indeed a highly visual page builder, allowing you to edit and create pages from both the back and front end of your website.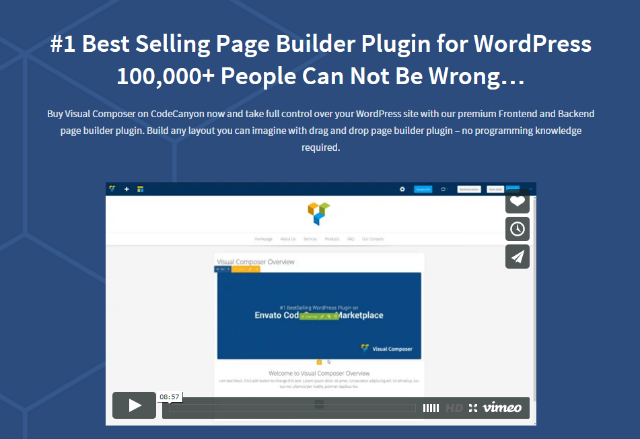 The drag and drop functionality of this plugin means you won't need any programming knowledge to benefit from the builder's features. Simply drag elements over to your page, drop, and submit to create pages that look sleek, professional, and user-friendly.
Features
One of the biggest bonuses of Visual Composer over others is its ability to seamlessly work with any WordPress theme. All you have to do is install your theme, then activate Visual Composer to start building upon your page.
With over 40 content elements, you'll also have plenty of choice when it comes to designing your pages. Choose from post grids, social buttons, content sliders, call to action buttons, tabs, carousels, and widgetized sidebars to name a few.
Further features include:
Create your own color scheme with the built in skin builder
Responsive design for adaptation across mobile devices
Multilingual ready for multiple language needs
Adaptable to any WordPress theme for complete customization
WordPress user access support
Support for custom post types
A vast online knowledge base for any questions or queries
Exclusive addons to further extend usability
Shortcode mapper
Lastly included in the Visual Composer package are free life-time updates. This means that for as long as the plugin is actively updated, you'll get access to those updates at no extra cost. Updates are vital to keep your website secure as the WordPress platform evolves and changes, so it's a great freebie to have.
Price: $64
💰 Don't forget to use our Visual Composer coupon to get an exclusive 20% OFF.
Try Visual Compsoer
8. Page Builder by SiteOrigin
Page Builder by SiteOrigin is one of the most popular and widely used free drag and drop page builder plugins in the market. With an interface that mimics WordPress, the familiarity and ease of use won't be surprising.

This plugin works with native WordPress widgets, which means you can create a website fast. And there is no theme it won't work with, meaning you can choose the best WordPress theme for your site and use Page Builder to finalize the design and functionality.
Features
With Page Builder, there's no need to know any code. Plus, it doesn't limit your pre-defined rows. Instead, you have complete flexibility to create a layout that works for your webpages by using the Row Builder, which will help guide you to proportionate design if you need some help.
Further features include:
Live editing for seeing changes in real-time
History browser for changing back and forth between changes
Ability to change things like paddings, background colors, and column spacing
Free themes that were designed to work specifically with Page Builder
SiteOrigin layout block that works with Gutenberg
Page Builder is also available in 17 languages, meaning you can use your preferred language of choice to create the site of your dreams.
Price: Free (and always will be)
9. Brizy
Brizy is a free plugin made by Themefuse that allows you to build and design a website from the ground up using different content elements that can be customized to your heart's content. It features general settings such as fonts or colors as well as drag and drop pre-made website blocks that will automatically adapt to those respective settings.

Features
Brizy is a clutter-free and minimal looking page builder that's designed to help you achieve your site building goals in a pinch. It offers features like real-time editing and a drag and drop interface.
Further features include:
Over 150 pre-made blocks – Blocks are pre-made designs that you can add to your page, ready to be customized
Global styling – you can change all texts that share the same properties in one go
Mobile Friendly – switch instantly to Mobile View mode, where you can make changes that will only apply to this type of devices
Over 4000 icons included – even the most demanding icon needs are covered
Price: $49 (free plugin available)
10. WP Page Builder
WP Page Builder is an adavnced drag and drop page builder plugin that's flexible to use, comes with tons of features, and offers real-time frontend editing so you can see changes as you make them.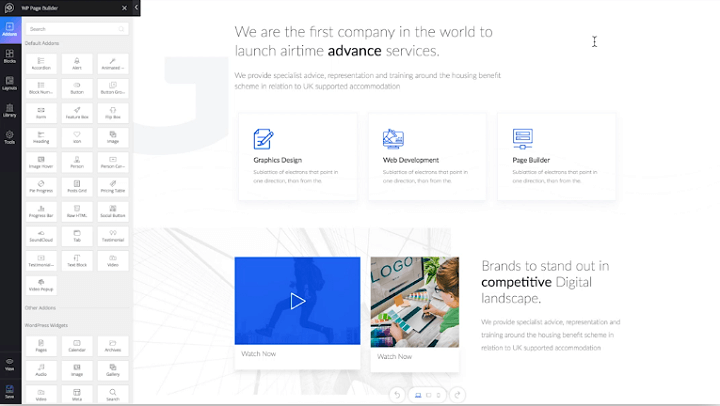 With 60 available element blocks, there's nothing you can't create with this plugin. And thanks to the built-in library, anything you build right now can be saved for later use.
Features
WP Page Builder has a wide range of features that make page building easier on people of all skill levels. For example, it comes with pre-designed templates, so you can make a webpage within minutes.
Further features include:
An import and export system
Unlimited undo and redo options
One-click duplication
Nested rows and resizable columns
Translation ready for creating in your preferred language
Custom post type support
Price: $39 Per Year
FAQ
What is a drag and drop page builder plugin?
A drag and drop page builder plugin is a piece of software that allows site owners to drag and drop webpage elements onto a page and create beautiful layouts without having to know or use any code.
Is Gutenberg a page builder?
As the new default WordPress editor, Gutenberg may seem like a page builder on the surface. However, despite its drag and drop interface, it lacks the ability to help you customize your site like a true page builder plugin.
Should I use a page builder plugin?
Page builder plugins offer people of all skill levels many benefits. Creating complex, customized sites is easier and faster, you don't have to mess with code, and you can design your site to look and perform exactly the way you want.
Do I need a page builder for WordPress?
No, not everyone needs a page builder for WordPress. That said, if you want to quickly create a truly customized website with ease, there's no sense not using one. There are many affordable (and even free!) options available that make site building a simple task.
Over To You
Having the ability to design and build your website, without any technical knowledge is a great boon to those of us who like to DIY our web design.
All of these plugins have the functionality that enables you to achieve that goal. Each one offers something different to the end user and something that makes it stand out. This leaves you in the perfect position to pick and choose depending on your individual needs.
I hope you enjoyed our article on best drag and drop page builder plugins. If you did, you may also want to see our post on best WordPress landing page plugins.
What page builders do you use alongside those listed? Which is your favorite? Let me know in the comments.
Demikanlah tulisan tentang 10 Drag And Drop Page Builder WordPress Plugins Compared (2020).

Semoga dapat menjadi manfaat bagi kita semua.